Testimonials
"I just wanted to thank you for teaching me so much about life.  I move ahead with great strength."
~SG
_______________________________________________________________________
"I've been tapping daily, often several times a day, and it's been working wondrously! In fact, usually I have a lot of pain/discomfort that often flairs up especially when stressed; and when this happened this week, I immediately tapped and felt some relief.  I also noticed that the daily stiffness that I experience has been tremendously reduced.  Usually it takes me some time to stand and now I'm springing up to my feet.  One day, I hopped out of bed and quickly noticed that I was much more flexible than usual.  I can't tell you how grateful I am to have met you!"
~LYM
______________________________________________________
"I just returned from a week in Massachusetts celebrating my father's 90th birthday.  He's in great shape and still quite physically and mentally functional (and still driving). My 88 year old mother, who's been divorced from him for over 50 years, was feeling unresolved with him and not able to forgive him for "breaking her heart." We talked at length about it and then I suggested tapping. We did an EFT session using a Brad Yates video.  She was amazed the next day, the day of the party, that she felt completely at peace about him. She was able to be open and warm with him and his girlfriend.  She thanked me repeatedly.  So, I thank you, too, for teaching me this technique."
~TM
---
"Bev is definitely the person to go to if you were looking for an amazing EFT practitioner. My visit was spurred by my fear of public speaking. I was nervous about the whole process and what to expect. Bev explained everything to me, answered all my questions and made me feel very comfortable. She is a great listener and offers great insights that will help during the session. She  knows exactly what you need to tap on to overcome your fear and has a lot of experience. I am very pleased with the results that she has helped me accomplished. I am exuding confidence in other areas of my life just because I was able to address this fear. I credit Bev for all of this and i am very grateful that I came to her.   Thank you Bev! "
~ Mary Anne Fombe
---
"Some recent experiences by Rose H., RN at Cleveland Clinic  
I introduced emotional freedom technique to a female patient. She has an autoimmune disease, has been on steroids and has chronic pain.
She was very receptive to [receiving] healing services. The EFT provided a tool for her to use when she was alone in her hospital room. She found it very helpful for her pain and her mood.
 Recent patient with history of bladder cancer. She had emotional issues tied to fear.
I introduced tapping to her and she loved it. She commented that she felt empowered: she had a technique that helped her decrease her fear, pain, and anxiety. She was very grateful to learn this technique and have something to do when alone in her hospital room, and something she had control over doing for herself.  She has been tapping since I met with her.
 I introduced EFT to 2 other patients, one male and one female. Chronic health issues; both young and with families. Taught them EFT and they noted this is something they could do with their children.
A heart patient who, when he was here, I taught EFT. He has chronic pain and anxiety.  I saw him recently when he came back for a checkup; he was all smiles and stated he was so grateful for healing services and learning tapping. He continues to tap and expressed how much this has helped him."
---
"Thanks so much for everything you're doing for me and the world!  I really mean that…You are employing a practical methodology to help people to move beyond mental and physical roadblocks.  This radically changes the quality of their lives and helps them (and me) to realize their potential.  You are a gift to the world."
~Bryan
---
 "Bev is passionate about helping people find relief from both physical and emotional symptoms.  After experiencing life changing results using EFT (Emotional Freedom Techniques)  personally, she has been committed to helping people quickly relieve symptoms from which they may have suffered for years   Her enthusiasm and energy is infectious and her dedication to relieve unnecessary suffering for all people is genuine.  I now use EFT myself and have gotten remarkable results helping my clients use it as well.  I recommend that you invite her to speak and train your organization in EFT.  They will find her presentation and instruction easy to follow and understand, extremely useful and possibly transformational."
~Dr. Jim Goldstein, President, Powerful Partnerships
---
"I have great respect for Bev's enthusasm and dedication to her work and her clients.  She is an experienced and skilled EFT practitioner and an effectie teacher.  What Bev can accomplish with a client in one sessin is impressive.  I would recommend her to any person or organization seeking to hire a skilled, result-oriented EFT coach."
~Elena Khazanova, Owner, Grow With Ease
---
"I met Bev at a very difficult time in my life when I was a completely frazzled person professionally and personally.  From the second I started working with her with EFT and energy work, my life turned sharply around.  She is universally welcoming to everyone and enthusiastic about her craft, inspiring others to stick with her healing and teaching methods, but also to be open to try something new.  She has that special talent of making you feel as though you are the only person in the room and she spreads her high standards exponentially amoung all those she meets with the end goal of making the world a better place, one person at a time."
~Penelope Doyle Johnson
---
"Bev is an insightful, intuitive teacher and knows how effective EFT can be for body/mind/spirit.  She is an incredible teacher!"
~Reggi Norton, M.Ac., L.Ac.
---
"It was a privilege having you share your knowledge with my team.  I believe in educating and adding all the tools necessary to navigate this journey of life. Thank you again.  I believe it is all unfolding nicely that people are opening up to the possibility of having alternatives to live a better life and starting to embrace them. I so appreciate the time, energy and effort you so lovingly gave yesterday .  I know I don't have to tell you the vibrational level will remain high for  longer than just the two hours you were here. Nancy came into my office and said she had so much energy she didn't know what to do with herself!!! I started my day with tapping and I am grateful for the beautiful reminder of the power we have inside ourselves."
~Cindy F.
---
"I had a fantastic session with Bev around my fear of making phone calls.  As we did our session it brought up memories of being on the bus in 6th grade and feeling like everyone else had friends and someone to sit with.  I remembered wanting to be invisible and feeling not worthy.  We focused on those two issues and when I went home I made 5 phone calls with no resistance. If you have a fear that's getting in your way, preventing you from doing what you want, I can't recommend Bev enough.  She is loving and gentle and has a knack for getting to the heart of the problem."
~Jane Lovas, Lovas Consulting
---
"When I met Bev in 2010,  I had been stuck in a terrible headache cycle that seemed to last forever with no signs of ever ending. I told her that I had my migraine for over a year and that all the doctors had told me that the only way to get rid of my headache was to take medication or more notably to have surgery. A few moments after that, Bev insisted that she must introduce me to the tapping method. I was apprehensive, but allowed her to show me what she would do, then perform the sequence on my pressure points. I was so impressed and surprised, as Bev was able to break my headache cycle. She went through the sequence numerous times, each time she went through the tapping sequence my pain level decreased until the migraine headache that I once had, which was totally unmanageable, actually became bearable. The relief from tapping did not last forever, the relief was limited (for me at the beginning, due to intensity), but as I felt the pain returning I knew the sequence and I knew that I could take a deep breath (or a few) and complete the tapping sequence myself. I continued to do tapping sequences over a period of months attempting to manage my migraines without medication and definitely without surgery. On days when Bev and I would be working in the office together, I would often request that would perform the tapping sequence on me because she was the best at making the pain recede. Now that it is a year and a half later, I have found the best treatment is a combination of yoga, acupuncture and of course tapping. In this situation, thus far, no surgery required! Thanks Bev for bringing tapping and some relief into my life!"
~Stacey Band
---
"I met Bev Nerenberg in the Spring of 2011.  Immediately, and without hesitation, Bev engaged me in a deep and personal conversation about things that were truly meaningful to me. Our EFT session was memorable for a few reasons: 1.  Bev was completely "with me" through the whole session, which made be feel listened to and valued.2.  Bev was able to keep me on track, so that I didn't spend our time together getting lost in my story.3.  Bev was able to pull all the vital elements out of what I said, and crafted a great tapping script, providing a wonderful clearing of some of my long-held negative thoughts and emotions which have been limiting me. Having met and worked with Bev has been a blessing in my life."
~Gratefully, Rev. Sam McCartin, CEMP Massachusetts
---
"Bev, I don't know where to start.  First of all, I have been feeling better than I have for a long time.  Less anxious, less angry and more accepting.  Tapping surely helps keep my mind on what's going on and more in touch with my feelings.  Instead of shoveling things underneath and inside, I am so much more aware and somehow able to think clearer.   I do continue to tap when I feel things building.  I just find it hard to believe something so simple might be the answer to keeping me healthy. Thanks again for showing me the way. I am much calmer."
~Gloria Brown
---
"Thanks Bev. You were great.  I'm sure everyone got so much out of your powerful demos.  Wow – that's great stuff!"
~Ira L.
---
"Thank you so much for the great seminar.  I really loved it and the both of you!  I am making EFT a part of my morning ritual. It's a great tool."
~Robyn M.
---
"I tapped several times all day.  Always felt some tingling in my hands and lower arms.  Shook them gently.  Yes, it always helped.  The charge does diminish. Woke up this morning pain free; spent most of the day that way.  I did do it first thing this morning right after I woke up.  I usually wake up into an already always kaka conversation so it occurred to me to do it first thing. I'm thrilled to watch and listen!  Thank you, thank you, thank you.  Yes.  Energy is the best and only way to go. I love it!"
~Ellen L.
---
"I first met Bev last summer at a point in my life where everything felt hopeless and I hardly wanted to leave the house.  My self-esteem was at its lowest ebb ever.  Bev came recommended by friends I had known for decades or I never would have listened to anything as "out there" as EFT, and because of that, I came to her with an open mind. I had one consultation with Bev and was instantly warmed by what a giving, caring person she was but also by her sureness about what she was doing and the impact it had in her life and on other people.  I was surprised that in the tapping session, I found it very hard to say that I loved and approved of myself.  I watched the dvd's on PSTD that she loaned me and was touched by them but also identified a lot with my inability to move forward from things that happened decades ago and seemed like yesterday. I credit EFT for quieting the constant story voice in my head, my deadly "what if" maker that stops me from everything.  When I get panicked, I know I can tap, nervous, I tap,  overwhelmed I tap and I am still learning from her about the different ways to phrase wants and worries to incorporate the power of tapping.   I am so new to this but I know it works for me, especially in moments when I know I need guidance and NOT from that voice in my head!  I also tapped about a toothache this month.   I am working on that quality of openness that Bev has because she is fearless about saying to a stranger with problems, "Hey, have you ever tried EFT?" and I admire that about her. I hope I can be like her and make that difference in the world with each person I meet by showing them that EFT can ease their pain and give them improved health, mentally and physically.  I have come to trust and love her for the straight ahead, no fooling, truly kind person that she is and thank her for giving me the gift of EFT."
~Sincerely, Penelope J. Johnson
---
See what these veterans have to say about their experience with the Veterans' Stress Project >>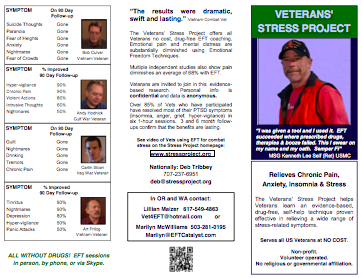 …and see what this vet shares about his experience with Marilyn McWilliams